Brenda, 32, describes what it felt like to be sentenced to two and a half years in prison at the age of 21:
"It's like dying. Everything flashes before you: college, your friends, the connections you've built and you can't believe how you got to this point.

 

"As you go down the stairs from the dock it gets really cold. The cold follows you down the stairs. I don't know why it's so cold. You sit on your own in the cell. My solicitor came down with a scrap of paper covered in my family's phone numbers. I didn't understand why she had them for me. That was when I realised I wouldn't be free to talk to them, I wouldn't even have a phone.

 

"I got into a van to go to prison and I could see everything out of the window. It was evening. There were people in bars, walking around and it was like a film. Suddenly, your life is on hold."
Brenda stopped the Tortoise newsroom in its tracks on Tuesday lunchtime at our weekly open ThinkIn. Her appeal to us to report on the problem of women going to prison was born of her own very personal experience, but it speaks to a wider issue: 4,000 women are currently in prison, that's less than five per cent of the prison population and they are far less likely to be there for a violent offence.
The Prison Reform Trust points out that women are far more likely than men to be victims as well as perpetrators – victims of domestic violence in adulthood and abuse in childhood in particular. One study reported that half of women in prison were there for stealing to fund a partners' drug habit.
Brenda was sentenced aged 21 for beating up a woman who had attacked her sister. She cooperated with police, believing that it was a clear case of self-defence. She was sentenced to two and a half years and served 11 months in prison – including a spell in a detention centre – and was threatened with deportation to Uganda (where she was born), despite being a British citizen.
Since leaving prison, Brenda has built a new life, determined to campaign for better treatment of women in prison. She is a poet and speaker on prison reform. She came to the ThinkIn with Sound Delivery, an organisation that works with charities to get their people's voices heard in the media. They are part of the Tortoise Network.
This is what she asked Tortoise to report on:
"What I want people to understand is that there's so much that happens before women are sent to prison. They are usually victims first. Women are vulnerable until the moment of sentencing – then they are just criminals. Please tell the whole story.

 

"Prison doesn't rehabilitate. We need to show that people have a chance after prison. It doesn't have to be a life sentence. Don't expect prison to sort things out. It's creating angry, damaged people, who were already damaged. It makes things worse. Someone said 'if a car is broken you don't bash it up more to fix it'. Prison, mentally and socially, beats you up then expects you to be fixed.

 

"Instead of prison, I believe the majority of women should be supported to improve their lives instead: women's centres should provide that support. We need to invest more in helping them. Their children, who often end up in care, shouldn't have to pay.

 

"Prisons are built for men. They were built to cater and accommodate men. Men are strong, they can get violent. I don't want to say men aren't vulnerable – they are. Some men cry with their fists. But this is a system built for them."
What next?
There are thousands of stories like Brenda's to investigate and tell, and there's a growing movement to abolish prison sentences for women for all but the most extreme crimes. We plan to pursue this as a piece of journalism this year.
If you have an experience that's relevant to this, or want to join a Members' Panel to debate the story more closely, email liz@tortoisemedia.com
At this week's ThinkIns we also heard…
Michael Palin joined us for our new Monday Night ThinkIn special guest slot to tell us about his most recent trip to North Korea. The good news is that you, too, may be able to travel to the brutal dictatorship in the future, if you so wish. Palin told us of how the country was heavily investing in tourism and is newly keen to make friends abroad to save its faltering economy. Resorts and airports are being built, currently ghostly empty according to the former Python. Our favourite anecdote from the evening was Palin reporting how he showed his incredulous guide the Monty Python fish-slapping dance who laughed and asked him, "Is this what you do?"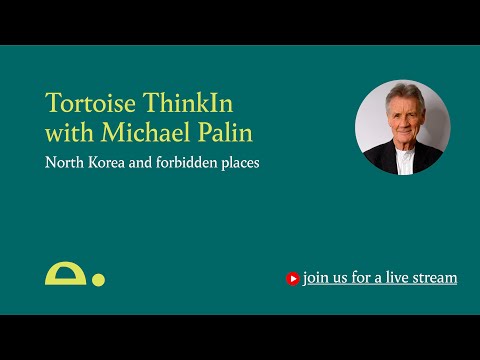 Also, a sold-out ThinkIn saw a debate on decolonising the arts, with Culture&, Wellcome Trust, The Photographers' Gallery, Arts Council England, the National Trust and Magnum photos all in the room. This is clearly a subject that the arts and heritage world is very keen to talk about. Errol Francis, CEO of Culture& summed it up when he said: "Decolonisation means giving up power as well as territory." This didn't feel like a conversation about history and heritage; it felt like a conversation about now.
Our open ThinkIn on Tuesday lunchtime also debated the ongoing Royal saga with Meghan and Harry. The majority felt the pair has been unfairly treated by the press, and that there is a racial element to this. We also agreed that there is a murky world around the funding of the royals that needs more investigation.
Portraits by Tom Pilston for Tortoise