The question of trust in banks is so often framed in terms of the 2008 global financial crisis. But the ThinkIn in the Tortoise newsroom looked ahead and pointed to a different, creeping challenge to public confidence in banks.
Are we quietly entrenching a regressive financial system? Picking winners and losers by geography within countries? Lending to big companies while scaling back loans to small and medium-sized enterprises? Choosing customers by data-set and algorithm in a way that, perhaps unwittingly, favours some groups of people over others, improving financial inclusion globally but not for people and places left behind?
The fact that we can ask these questions is a measure of how far things have come in a decade. People today have a textured understanding of trust in banks, perhaps best demonstrated by what we look for in other businesses: personal service (hotels), reliability and convenience (supermarkets), safety (airlines). For all the speed and scale of change in financial services, people stick with their banks. Whether the citizen has confidence in them is different from whether the customer trusts them.
It's easy to underestimate the scale of digital disruption to banks. It will change the business model and puncture any complacency in services and pricing. It will test the agility of banks lumbered by legacy and bureaucracy. And it will rewrite big bank culture.
But the issue of financial inclusion places as big a set of demands on the disruptors, whether coming from inside the banking industry or challenging from outside. It will force the fintech innovators, the platforms providing payment services and the app-based banking industry to understand that, alongside the need to be trusted by the customer, they are taking on systemic responsibilities for the economy and society.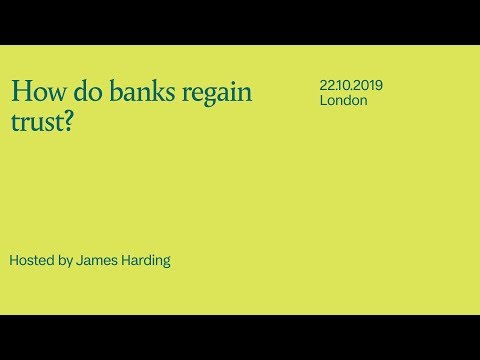 Tortoise business model
We want to be open about the business model of our journalism, too. At Tortoise, we don't take ads. We don't want to chase eyeballs or sell data. We don't want to add to the clutter of life with ever more invasive ads. We think that ads force newsrooms to produce more and more stories, more and more quickly. We want to do less, better.
Our journalism is funded by our members and our partners. We are establishing Founding Partnerships with a small group of businesses willing to back a new form of journalism, enable the public debate, share their expertise and communicate their point of view. Those companies, of course, know that we are a journalistic enterprise. Our independence is non-negotiable. If we ever have to choose between the relationship and the story, we'll always choose the story.
We value the support that those partners give us to deliver original reporting, patient investigations and considered analysis.
We believe in opening up journalism so we can examine issues and develop ideas for the 21st Century. We want to do this with our members and with our partners. We want to give everyone a seat at the table.