The second in our 'How to Live Well' series of ThinkIns, in association with our partner Fora, asked a blunt yet increasingly urgent question: "Can we travel and not ruin the planet?"
For those who love seeing the world, this is an area of deep internal conflict and – yes, let's be honest – frequent hypocrisy.
Of course, we want to travel well and in a way that respects the environment, but practical issues – e.g. limited days off work, the higher cost of alternative modes of transport – mean that we often find ourselves reaching for the most polluting option possible: plane travel.
Of course, we need to make fair judgements about what is necessary and unnecessary travel. Our European audience members understandably didn't see travelling to be with their family as a luxury.
But does seeing the world always need to involve getting on a plane? Several people who spoke were open to the idea of Virtual Reality tourism. Gawp at the Mona Lisa without the crowds!
It sounds laughable, but maybe that's a version of future travel – particularly as generational differences are now coming through. Where once jet-setting was seen as the ultimate luxury, it's now a dirty word.
Even when jets are involved, we heard that there are small, positive choices that can be made. For example, choosing not to travel first-class; or, even better, choosing not to fly on planes that have a first-class section. After all, those plush seats at the front take up more space than those crammed in at the back, so the emissions are higher per passenger.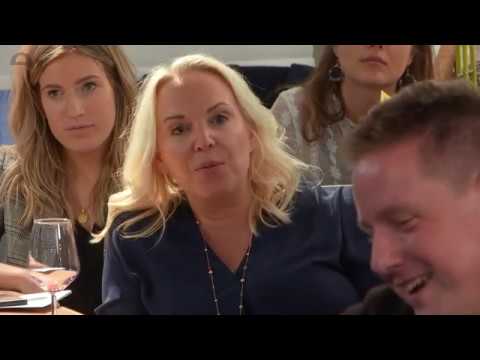 As for where Tortoise's own travels will take us next:
Carbon offsetting has been seen as a way for high polluters to compensate. But is it really the answer? Some studies have questioned the worth of offsetting. I'd like us to examine that further.
I'm interested in how effective electric or – more realistically – hybrid planes can be in the near future. Our guest entrepreneur, Neil Cloughley, suggested that we'd be flying in his hybrid planes from London to Manchester by 2025 for £50. The secret is in making the most emitting part of the flight (the takeoff) less greedy for fuel.
Finally, the role of government is key. Although the consumer is bearing the brunt of the guilt for their travel, we need to remember the producer is the polluter. How can the government incentivise greener travel? Is it with taxes or subsidies? Or a combination of both? Either way, there was a sense our politicians are too slow to act. We must compel them to do so before it's too late. The huge numbers who took to the streets the day after our ThinkIn are playing their part in highlighting the real emergency we are facing.
This was part of our 'How to Live Well' series. 'Can we invest well and not ruin the planet?' will be on Tuesday 12 November. You can book a place here.
Illustration by Nathalie Lees
Tortoise business model
We want to be open about the business model of our journalism. At Tortoise, we don't take ads. We don't want to chase eyeballs or sell data. We don't want to add to the clutter of life with ever more invasive ads. We think that ads force newsrooms to produce more and more stories, more and more quickly. We want to do less, better.
Our journalism is funded by our members and our partners. We are establishing Founding Partnerships with a small group of businesses willing to back a new form of journalism, enable the public debate, share their expertise and communicate their point of view. Those companies, of course, know that we are a journalistic enterprise. Our independence is non-negotiable. If we ever have to choose between the relationship and the story, we'll always choose the story.
We value the support that those partners give us to deliver original reporting, patient investigations and considered analysis.
We believe in opening up journalism so we can examine issues and develop ideas for the 21st Century. We want to do this with our members and with our partners. We want to give everyone a seat at the table.