Can a song accompany you like a close friend throughout your life? This was the question for discussion at a recent ThinkIn in the Tortoise newsroom.
Joining us was GQ magazine's editor-in-chief, Dylan Jones, who described his enduring relationship with the song 'Wichita Lineman', written by Jimmy Webb and sung by Glen Campbell.
He described these lines as "the greatest couplet ever":
"And I need you more than want you / And I want you for all time."
Discussing his new book on this classic 1968 track – 2 minutes 58 seconds that describe a telephone repair man in the American mid-west reflecting upon his work, his isolation and unrequited love – Dylan said 'Wichita Lineman' had accompanied him since his youth. The song was mythic and timeless, scarcely connected to the turbulent politics of the year in which it was released.
Eg White, winner of an Ivor Novello award in 2004 and a revered song-writer who has worked with Adele and Will Young, also joined us, and expressed dismay that the classic song-writing techniques were less favoured by record companies today. All the same, he believed the public's love for such music had not fundamentally diminished.
What was wonderfully clear from the discussion was how powerful a song – classic, bubblegum pop, or wilfully obscure – can be. But why?
Ian Ridley, who wrote movingly of his wife Vikki's death in our latest Tortoise Quarterly, spoke of the way in which music, not least the songs of Joni Mitchell, reminded him of her.
We live in an age in which people are, more than ever, looking for ways in which to find and define an identity: songs are part of that scaffolding.
Our co-founder Katie Vanneck-Smith remembered fondly the lost art of the mixtape. Harry expressed delighted that his son was now learning to love "bangers". However ephemeral they may seem when first released, great songs speak to something eternal in the human soul.
As a special treat, Eg White has compiled a Spotify playlist for us. Meanwhile: the Wichita Lineman is still on the line…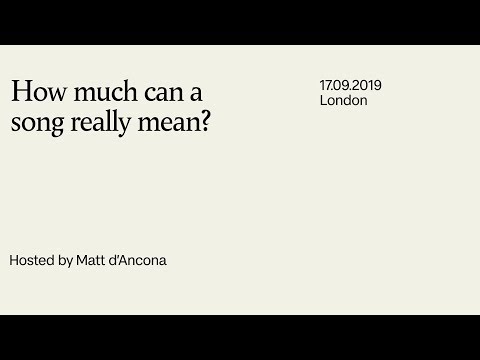 You can see a full list of our upcoming ThinkIns here. Do join us.