At a recent ThinkIn, a show of hands in our newsroom revealed that most of the people present had recently changed their diet to try to reduce their impact on the environment. But is it that simple?
The EAT-Lancet commission on food, planet and health earlier this year recommended meat consumption of 14g of red meat a day and 29g of chicken. For perspective, the average sausage weighs 66g. Many of us have clearly absorbed the headlines that suggest cutting down on meat is one of the most effective actions we can take.
But dig into the details of how much is okay to consume, and where it comes from, and it's clear there are more complex issues on our plates, and the question of how meat is produced is clearly a key part of the ethical puzzle.
The experts in the room – including a Michelin starred chef, three farmers, several plant-based burger producers and someone from McDonalds – helped us to map out the ethical questions concerning our diets. We discussed the merits of local grass-fed vs industrial beef, the potential damage to ecosystems (see palm oil) and myriad other factors.
But these types of details leave the average consumer facing a conundrum: we all want to do our bit, but how do we make practical choices at the checkout?
First, we must dramatically change the way we eat by 2050 or agriculture alone will the exceed the temperature increase limits set in the Paris Agreement. Personal choice cannot be the only answer, and some level of government intervention is imperative. This is worthy of further examination by the Tortoise team.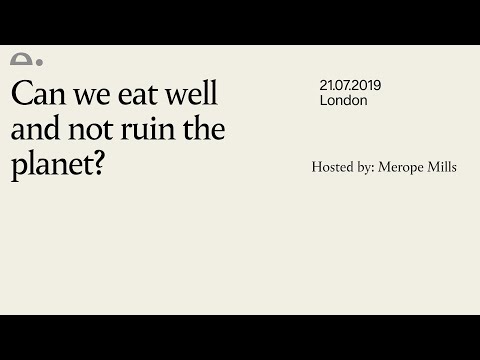 The next ThinkIn in this series is Can We Travel and Not Ruin the Planet on Sept 19th. Book your seat at the table.
Illustration by Nathalie Lees
Tortoise business model
We want to be open about the business model of our journalism, too. At Tortoise, we don't take ads. We don't want to chase eyeballs or sell data. We don't want to add to the clutter of life with ever more invasive ads. We think that ads force newsrooms to produce more and more stories, more and more quickly. We want to do less, better.
Our journalism is funded by our members and our partners. We are establishing Founding Partnerships with a small group of businesses willing to back a new form of journalism, enable the public debate, share their expertise and communicate their point of view. Those companies, of course, know that we are a journalistic enterprise. Our independence is non-negotiable. If we ever have to choose between the relationship and the story, we'll always choose the story.
We value the support that those partners give us to deliver original reporting, patient investigations and considered analysis.
We believe in opening up journalism so we can examine issues and develop ideas for the 21st Century. We want to do this with our members and with our partners. We want to give everyone a seat at the table.