First, define your terms. Since the EU referendum and election of Donald Trump in 2016, the word "populism" has been pummelled by over-use into semantic vagueness.
Too often, as Paul Stocker of the Centre for Analysis of the Radical Right said at our ThinkIn, the term is used lazily as a proxy for a suite of right-wing policies, especially tough immigration control.
In fact, as Eitan Tzelgov, politics lecturer at the University of East Anglia, observed, populism is better understood not as a set of doctrines, still less a governing philosophy, but rather as a specific form of political action, campaign and behaviour.
Its core characteristic is the framing of politics as a contest between "the People" and obstructive elites – with the added assumption that the People enshrine some version of moral goodness.
In recent years, and especially since the financial crisis, populism has fed upon the perception that those with power have settled upon a stodgy, introspective, venal consensus.
With its reduction of everything to caricatured, binary choices, populism has threatened pluralism and nuanced negotiation. It offers simple solutions to complex problems – a mismatch that is, of course, a recipe for even greater disaffection, as carelessly made pledges remain undelivered. Its proliferation has also been bad news for civil liberties.
That said, there is some evidence that the global populist surge has galvanised voter engagement, both in the US and the European Union.
While there is no shortage of alarm about populism and its spread, the battle to renew liberal democracy has barely begun. Those expecting a (non-existent) pendulum to swing back will be bitterly disappointed and, on the whole, are still flailing in their response.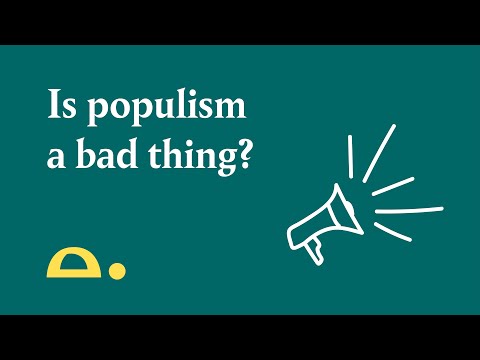 What next?
Story. Populists understand that contemporary politics is driven by story and narrative rather than by statistical claims and the credentials of individual politicians (could Hillary Clinton have had a better resumé?). They have grasped that the age of technocracy is dead, that governing competence is no longer sufficient to guarantee electoral success. Trump may be an offensive amateur, but he has a story to tell that still appeals to a significant section of the US electorate. The politics of recent years has been dominated by identity, culture and tribe: from Brexit Britain to Brazil, we have seen the nurturing of recrimination, hatred of minorities and emotive nationalism. Those forces will remain hugely significant – but, as recession looms and economic forces resume their centrality to political debate, how will populists (and their opponents) marshal their proposals into appealing narratives that are more than reheated slogans from the era between the end of the Cold War and the Crash?
Networks. The great insight of Steve Bannon – Trump's former chief strategist and now a free-wheeling adviser to populist politicians (including Boris Johnson) – is that, in the digital era. networks matter more than institutions. As the Oxford academic Philip Howard writes in his book, Pax Technica: "The state, the political party, the civic group, the citizen: these are all old categories from a pre-digital world." The modern political landscape is better understood as "a system of relationships between and among people and [digital] devices". The populists understand this fully. Thus far, the liberal push-back has been pathetic. Tortoise will be watching next-generation politicians, new parties and new activist movements to see if they assert themselves (as OFOC and FFS, the youth wing of the People's Vote campaign, already have in the UK).
Jiu-jitsu. As Catherine Fieschi, author of Populocracy, argued at our ThinkIn, those who battle against populism must, like a jiu-jitsu fighter, use their opponents' strengths against them. Liberals should not be afraid of bold messages on social media, collaboration with like-minded groups around the world, or of the extraordinary analysis of big data – increasingly turbocharged by AI – that has been so important to the populist surge. That surge will continue until the other side toughens up, lets go of the old, and accepts the depth of change in political culture. But this will require liberals to transform a century of essentially emollient culture. We'll be asking if they are up to the mission that history has set them.