Whenever the performance poet Lisa Luxx reads her most recent work to an audience, she ends by getting them to say the title out loud.
At first, she says, almost everyone hesitates over a word long burdened with unwanted associations, from the pornographic to the political. "I grew up with the word 'lesbian' being a joke or insult. Nobody wanted to be called a lesbian," she recalls. "And you grow up, and you're still a bit uncomfortable with it. When I say the word, I know I remember how I felt as a teenager; I hated the word. I didn't want to be a lesbian."
In theory, at least, much has changed since she was growing up in Yorkshire in the Noughties. Lesbian visibility in mainstream culture has arguably never been higher, with this year's Pride power list featuring role models from Metropolitan Police chief Cressida Dick to the Scottish Conservative leader Ruth Davidson, who might have given Boris Johnson a run for his money had she contested the Tory leadership.
The women's football World Cup made icons of England's Lionesses – seven of whom are out and proud – and Megan Rapinoe, the self-styled "gay and fabulous" captain of the American side that beat them.
BBC dramas from Killing Eve to Gentleman Jack (telling the real-life story of Anne Lister, who swore lifelong commitment to the woman she saw as her wife, nearly two centuries before gay marriage was legalised) have brought lesbian leading characters into prime time.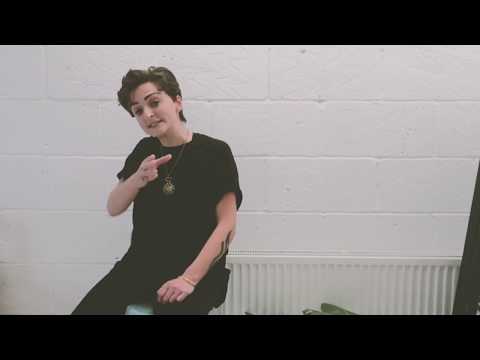 But visibility isn't quite the same thing as acceptance. This year's British Social Attitudes Survey saw the first fall in people expressing tolerant attitudes towards gay sex since the 1980s, while bitter protests have continued in Birmingham over school sex-education lessons promoting LGBT+ tolerance. Reports of hate crime against LGBT+ people more than doubled in number in the five years to 2017-18, and while the Home Office suggests this was largely driven by better reporting and recording of offences, government research last year found that two-thirds of LGBT+ people weren't comfortable holding hands in public.
The original inspiration for Luxx's poem, 'Lesbian', was an incident in late May, when two young women coming home from a date were allegedly attacked on a London night bus after confronting a bunch of young men pestering them to kiss each other. What struck Luxx was that the original newspaper report on the attack, although accompanied by a photo of their shocked and bloodied faces, didn't use the word "lesbian". Instead the women, one of who later identified as bisexual, were defined gender-neutrally as a gay couple.
Young women under 24 are six times as likely as those over 65 to describe themselves as lesbian, gay or bisexual, according to the Office of National Statistics, suggesting a generation far more relaxed about coming out of the closet. Yet when they are free to choose their own labels, instead of ticking official boxes, something interesting happens.
According to Google Trends, internet searches for "lesbian" have fallen over the last five years while searches for "queer" have risen, suggesting curiosity about a term people are encountering more often. Identifying as queer is now seen by some younger women as more modern and inclusive, embracing not just attraction to other women but also bisexuality, pansexuality (attraction to people regardless of their gender), or merely being open to a range of possibilities. When YouGov, the pollsters, asked respondents to place themselves somewhere on a sliding scale between exclusively straight and exclusively gay, prompting respondents to think harder about the grey areas in between, only 75 per cent of those previously identifying as gay or lesbian now defined as exclusively so.
By comparison, the very word lesbian has become seen in some circles as faintly middle-aged, provincial or even hostile to trans people. "Someone said to a friend of mine 'oh, you identify as a lesbian, that's very 90s of you,'" says Luxx, who sometimes identifies as queer herself in situations where she doesn't feel the L-word would go down well.
It's significant that the label is the only one for women that can't also describe gay men. "It's a misogynistic issue. It's that we cannot exist without relation to men, without that language having to be erased." Her poem is a plea to reclaim the word in its own right, to say it "without thinking phase, without thinking male gaze, without thinking TERFs or enemy of the queer crusade / Say it without thinking we're your currency to spend, say it knowing when we come out we have to steal our bodies back from men."
The phrase "lesbian erasure" – which describes being ignored, undermined or overridden in either straight or gay circles, or both – has recently become a loaded one. It's associated with hotly contested claims that lesbians face pressure to consider trans women as sexual partners regardless of whether they've had genital surgery, or that young butch lesbians are being steered towards identifying as trans men. (Girls outnumber boys almost three to one at the only NHS clinic in England treating children seeking to transition, but it's unclear why; a government-ordered review has yet to report.)
But the idea of lesbians being either airbrushed out of sight, or forcibly co-opted into a heterosexual norm, has far deeper historical roots, without which it's hard to understand why contemporary gender debate has become so fraught.
"You are offending against quite a lot of things when you're a lesbian," says the Labour MP Angela Eagle, who in 1997 became the first openly gay female minister in a British government. "Not only are you a woman who doesn't rely on men or need to interact with them particularly, you are also a kind of threat to male entitlement." As Eagle points out, gay sex between women was never criminalised in Britain in the way that it once was for men, as if the idea of a female sexuality that doesn't involve men was either too unimportant to care about or too alarming to contemplate.
To this day, lesbians find themselves absorbed into straight men's porn as fantasy figures, goaded to "perform" for the titillation of strange men in real life – a phenomenon much discussed in the wake of the London night bus incident – or bullied for their difference. Six weeks after that incident, reports emerged of an 18-year-old lesbian from Hull being beaten up and called a "fucking lesbian" by friends on the street.
"I think (the bus incident) really scared and shocked the lesbian community," says Stephanie Lloyd, treasurer of the LBGT+ Labour group and chair of the Progress think tank. "Lots of us thought it maybe didn't happen as much any more, or not in the same violent way. It has never ever been safer to be out in this country, but in a sense it's also never felt quite so scary. There's a level of fear in the community building up, nervousness which is unsurprising when you look at what's going on in the country." Minorities of all kinds, she points out, have good historical reason to fear the rise of the far right.
But if it was a shock, it wasn't wholly a surprise. Lloyd came out 11 years ago, as a student in Swansea. "I lived there five years and there wasn't one time I went out there with a partner [when] I didn't get some form of homophobic abuse," she says. "It was always 'let me get involved' or 'why don't you come home with me?'"
The outside world doesn't always feel safe, and Lloyd says that means having dedicated lesbian spaces matters. Yet part of the price of lesbianism becoming more mainstream has been losing the underground places in which a subculture flourished. The disappearance of women's bookstores across North America, once a staple of the 1970s and 1980s lesbian scene, might have as much to do with Amazon as with culture change, just as bar closures reflect gentrification pushing up rents or millennials finding love on dating apps. But there are now only three exclusively lesbian bars left in New York, while in London the only permanent space has until this summer been She Soho, with other gay bars running occasional lesbian nights.
In July, the model-turned-entrepreneur Teddy Edwardes announced plans to open a new London nightclub solely for lesbians, trans women and non-binary people, as a response to the harassment she and her friends experience ini gay as well as straight clubs. "Nearly every club in London is male-dominated and it's important that we can have our own space to feel comfortable and be ourselves," says Edwardes, who currently runs nights for queer women under the name Lick. She is convinced there's a viable market among younger women sick of being squeezed out in spaces dominated by gay men.
As Luxx says, the joke is that in mixed clubs the lesbians somehow always end up in the basement.
When Sophie Wilkinson, a freelance journalist, first came out aged 17, her favourite haunt was a small lesbian bar in central London. Now it's vanished into the CentrePoint development of luxury flats, and a lot of the clientele at the occasional lesbian nights she goes to are male. "I have a lot of gay male friends who are fantastic allies to lesbians, and my gay male friends are all quite particularly down with lesbian culture and environments," she says.
But when she goes out, that isn't always the whole story. "I've been to gay bars where lesbians are refused access. I've been to gay bars where we are allowed in, but we are pushed and shoved out of the way because in a world where women are so hopelessly sexualised if you're not sexually interesting, then what's the point? You're an obstacle. They're not necessarily friendly places for women." If lesbians are increasingly visible in mainstream culture, question marks still hover over their place in LGBT hierarchies.
Last July, a small, radical lesbian group calling themselves Get The L Out successfully disrupted London's Pride march, some carrying banners reading "lesbian, not queer". The name reflects a belief that, in a more fluid sexual culture, lesbians' right to set their own boundaries may be threatened, with women afraid of being called transphobic if they reject trans women who may still have penises as partners. (Interestingly, gay men's willingness to sleep with trans people possessing vaginas never seems to be tested in the same way.) The lesbian-not-queer banner also echoes calls for lesbians to quit umbrella LGBT+ organisations such as Stonewall and organise separately.
Stonewall's outgoing CEO, Ruth Hunt, is a lesbian who supports trans inclusivity. Her lesbian critics may be articulating a fringe view, but it's an increasingly prominent one that reflects real tensions within the rainbow alliance. Veteran lesbian activists who have challenged the admission of trans women to women's prisons, refuges or other female-only spaces have faced concerted attempts to deny them a platform, including threats of violence. Older women who fought alongside men to abolish Section 28, or who remember the days when lesbians stepped in to nurse gay male friends dying of AIDS, are dismayed to see men who weren't even born then tweeting that they should keep their opinions to themselves.
It's queer audiences, according to Luxx, who often struggle with saying the L-word out loud when she invites them, worrying about whom they might offend by doing so. "To a straight audience, what might be coming up for them is 'this is a taboo, this is about sex'," she explains. "Whereas with a queer audience, they're thinking politically."
Away from social media and its vitriolic spats, a different side of the relationship between lesbians and trans women often emerges in real life, reflecting a shared understanding of what it means to be vulnerable.
"I'm a feminist who is a trans ally; those things are not in conflict at all," says Angela Eagle. "There certainly shouldn't be fighting between feminist and trans people because the only people who benefit from that are the reactionaries who want to get us all back in the closet or back to the kitchen, and we are in a back-to-the-kitchen era at the moment. Progressives shouldn't play their game; don't fall for it." While the progress made over decades shouldn't be underestimated, "things can go backwards as well as forwards and it's wise to be aware of that."
Lloyd, too, worries about public debate being skewed by the focus on a relatively niche minority of trans rights activists and radical feminists battling it out on Twitter, obscuring a mass in the middle who are more relaxed about sexual fluidity. If anything, she's struck by parallels between hostility to trans people now and the way lesbians were excluded by an emerging feminist movement in the 1960s and 1970s. (Then, too, fears were raised about lesbians being supposedly sexually predatory, or about the movement being portrayed as man-hating if they let in too many butch women: the feminist writer Betty Friedan famously called lesbians "the lavender menace".)
Yet none of that stops her describing herself proudly as a lesbian. "There's more understanding of different people's identities, that there's a spectrum, and of how those identities change over time. That's good. But for me it's really important because it's who I am. I'm not queer. Yes, I sit on a spectrum, but I sit on a very particular part of it," she says.
"Where I struggle is when people say you can't be a lesbian and a trans ally – that isn't true. Lesbians are still allowed a choice as to who they have a relationship with. Try to take that away from someone, and you are doing exactly what people have done to people like us and trans people for centuries."
Sometimes a word isn't just a word. Sometimes it's a declaration that women haven't fought for centuries to define their sexuality as they choose, only to give up at the last minute.
All Photographs by Getty Images