By Merope Mills
We've turned a corner in the past few years; there's more respect for womens' sport, and much more coverage. But for women, there is not anything like the money available to men.
Our ThinkIn asked: does simple fairness demand equality?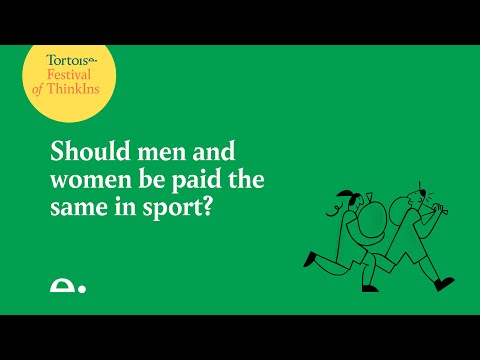 What next?
We came together to talk about the gender pay gap in professional sport, but left with a better understanding of why womens' sport is so undervalued. Here are the key areas for us to explore next:
The history. It's worth thinking about the impact of the year the FA banned womens' football. In 1920, womens' football was more popular than men's football.
Then the (all-male) FA, banned it. The lack of equality in pay, remarked one contributor, "is as a result of really low media coverage, driving really low interest and attendance, driving really low commercial interest."
The interesting question, they said, is not whether women and men should be paid the same ("of course they should!") but how do we get to a point where women and men are paid equally as quickly as possible?
The decision makers. In the UK, nearly every major TV sports channel or Head of Sport position is held by a man. The exception is the BBC where Barbara Slater runs the show. This year, audience are being served a summer of women's sport on the BBC. Not just the football World Cup but the netball World Cup, the women's cricket Ashes and more. To create more exposure in the media, we should look at the people at the top who can spark change at the bottom.
The problems start young. We were lucky to have with us teenagers from an east London secondary school – they spoke eloquently about the disparities they noticed between genders in sport in their age groups. Schools need to place equal value on sport for girls and boys. At a professional level, womens' sports need to be valued equally in prize money. Two years ago, the FA increased prize money for clubs in the FA cup. They doubled it for clubs in the men's game – but left it at the same (already paltry) level for women. At every level female sport is dealt a dud hand.
The most interesting elements from this ThinkIn were the everyday stories. The childrens' views particularly expanded our mindset, as did that of Edward Ramsden from Lewes FC, a club where male and female players are paid the same. The Lewes FC story is a fascinating one – something for Tortoise to return to in the future.
You can watch the full ThinkIn here.