In 2015 the Syrian war fuelled a million-strong surge of migrants seeking safety in Europe. That surge tested the EU's borders and administration to destruction. It stirred the conscience of liberal Germany, and emboldened anti-immigrant voices, from Hungary and Piedmont to Brexit-voting Britain.
The pinch point was Lesvos, six miles from Turkey, an island that became Asia's new gateway to Europe. Last year the island's biggest refugee camp was called the worst in the world, with open sewers, sexual and sectarian violence and three-hour queues for food. Last month Tortoise went there to sit down, literally, for a ThinkIn with refugees and aid workers who still live and work on the front line of a humanitarian crisis. But it's a different sort of crisis now.
Politics has mandated a Fortress Europe mentality in Brussels and Fortress Europe policies to match:
Turkey has been paid to staunch the flow of migrants
Donald Tusk, president of the European Council, has said: don't come
Those who come anyway find there is only one way into the EU, and that is to be certified as "vulnerable"
As a result, many find themselves in limbo, not for months but years
The new crisis, we were told, is one of choice. Refugee numbers are at a 14-year low and the message that people stuck on Lesvos are sending back to relatives is not to bother. But as a senior aid worker told us: "No deal is going to stop desperate people fleeing from the Middle East. It's just going to make it more dangerous."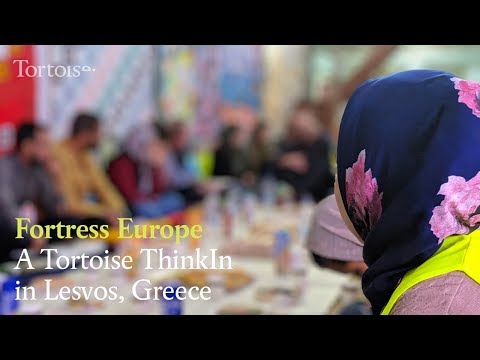 The Moria refugee camp was built to hold no more than 3,000 people. Numbers peaked last year at more than 8,000. They have fallen now to fewer than 5,000 for the first time since 2016. Overcrowding is still acute and the number of new arrivals is expected to pick up again this summer, but Lesvos is adapting to them.
The Olive Grove overflow camp is not comfortable, but Ali, the former refugee who runs it, insists life for its 500 residents is safer than last year. He says food queues are down to 20 minutes.
The separate Kara Tepe camp, closer to the resort town of Mytilene and run by the municipality, houses a further 1,000 men, women and children. Families waiting for their "geographical restrictions" to be lifted so they can leave the island are each assigned an "Isobox" prefab hut with its own address. "It's not paradise," its manager says, "but it is a place of dignity."
The wait at Kara Tepe can be long. Raj, from Afghanistan, has been there with his family for eight months. They have applied for asylum and been interviewed twice. He doesn't know when a decision will be made but believes, probably rightly, that "if Europe wanted to do something for a refugee, it could". For now, he says, "all I know is I must wait."
Slowly, through trial and error and the earnest efforts of NGOs and locals, the refugee crisis has become a semi-permanent part of the island's economy. It has dented revenues from tourism but the business of long-term provision for refugees has gone some way to compensate.
Martha Roussou of the International Rescue Committee says one in ten people on the island is now a refugee. Things could have got ugly, she suggests. "But it's not happening, and I'm proud of it."
Tortoise will continue to cover the European refugee crisis and migration globally. We'll be pursuing two leads from Lesvos in particular. Before that we'll publish a personal story that proves, if nothing else, that hopes for a better life aren't easily crushed. Watch this space.
Further reading
The Lightless Sky (2016) is the story of Gulwali Passarlay's odyssey as a teenager from Afghanistan to northern England – also recounted at a Tortoise ThinkIn on The State of Asylum, 7 February 2019.
The 2015 refugee crisis was chronicled in memorable reporting, not least John Sweeney's conversion to Snapchat.
After Nujeen Mustafa's epic journey by wheelchair from Syria to Germany, Christina Lamb caught up with her. Nujeen (2016) was the result.
Benjamin Ward of Human Rights Watch and the writer Kenan Malik have offered takes on Fortress Europe-style responses to the refugee crisis. In a more detached way, so has Reuters.