By the second verse of Thunderstruck, AC/DC singer Brian Johnson is, by his own admission, shakin' at the knees.
And honestly, it's no surprise. Angus Young is doing this manic left-hand arpeggio thing on his guitar, sending out an overwhelming flurry of notes as sharp and irritating as a cloud of mosquitoes. There are pounding drums, the thunder of guns, no wonder Brian's a mess and breaking all the rules by the time he's halfway across Texas.
Now, imagine while all this is going on, at about 130 beats per minute, you're getting on and off an exercise bike during a 25-minute workout session. Are you feeling anxious or relaxed? Relaxed or anxious?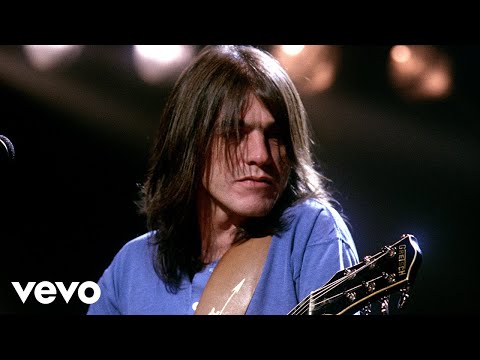 Fortunately, we can skip that bit because a bunch of students in the corridor outside Lab 601 at the University of Wisconsin have already taken part in this heavy rock peloton.
Fourteen of them rode their bikes three times at intervals until they hit a heart rate of 130 bpm. As soon as they hit that mark they were made to stop and listen to AC/DC, or classical music, or no music at all. According to the study, the fast rock music increased blood pressure and heart rate, while the classical music, at 50-60 bpm, led to a lower heart rate.
Classic rock fans will note that both the early Bon Scott-period AC/DC (Dirty Deeds, Done Dirt Cheap) and the later Brian Johnson era had the same accelerating effect on the University of Wisconsin students. An earlier UK study – this time involving a group of runners listening to jazz while on a treadmill – found that fast and loud music "might be played to enhance optimal exercising".
The bigger question here, of course, is do we all need a soundtrack when we are reading Tortoise to get the maximum wising up effects from slowing down? The evidence indicates yes.
German academic Hans-Joachim Trappe, in a 2010 study, found that music can work as therapy. Trappe found that patients with anxiety, pain, stress, depressive syndromes and sleeplessness benefit from classical music, especially 30 minutes before surgery, that causes heart rate and blood pressure to drop.
He chose Verdi, Bach and Beethoven when he might just as well have aimed for a more patriotic selection – Kraftwerk, Scorpions or Bowie's Berlin Trilogy. Although, digging deeper into his work, he writes: "Vocal and orchestral music produce significantly better correlations between cardiovascular or respiratory signals compared with music with a more uniform emphasis. The greatest benefit on health is visible with classical music and meditation music, whereas heavy metal music or techno are not only ineffective but possibly dangerous and can lead to stress and/or life-threatening arrhythmias."
For quite unnecessary emphasis, he adds: "This music should not be used in intensive care medicine."
Choose carefully, then (you should certainly build up gently to this two-hour session of Deep Dark and Hard Berlin Techno).
Trappe, by the way, has also made the case for music helping with memory, which gets us closer to where we need to be.
So science is telling us this Tortoise thing needs a soundtrack. But should we just be looking for something soothing and slow? And how slow is slow enough? True aficionados of slowcore hanging out on the internet have strong views on what qualifies as downtempo – this electronica mix has a strict speed limit of 63 beats per minute, a very chilled person's resting heart rate.
Research of the slowcore genre which sprang up as an act of resistance to fast and noisy grunge of the 1990s tells me that too dull can be undesirable. I make absolutely no case for listening to the California band Duster. Slowcore at its greyest can lead to early onset misery.
So where to start? Well, clearly with a band who are billed as the centre of the slowcore scene and yet have consistently rejected the label. That's the kind of nuance we like. Yes, straight outta Duluth, Minnesota, and clocking in well below the speed limit, it's Low.
They broke through strongly in 2018 with the Double Negative album, but the track Nothing But Heart from their 2011 album C'mon would get you most of the way through one of our articles. Find a comfy spot. I once saw them in a synagogue, and wooden pews and eight-minute slow tunes are a tough combination.
With determination, the journey into slowcore might take you to one of the finest music nerd corners of the internet, the website everynoise.com, which has created a magnificent map of the musical universe, placing 2,872 different genres and linking to giant Spotify playlists. For reference, slowcore is in the same part of the universe as Polish Experimental and Wisconsin Indie.
Of course, the logical endpoint for this is the actual band called Tortoise – post-rock instrumentalists out of Chicago – they were dormant for a few years but back for a couple of hometown shows this year. TNT is a good tune.
Just because it's slow it doesn't mean it has to be weedy. I found myself listening one afternoon to Black Tongue – the Downtempo Doomcore band from Hull, if you aren't following that scene. I will say, our cat was not into it, but if you are cycling up a big hill, they could push you up there.
Slow v fast? In the end, the real question is what do you listen to to help you focus? For me, Jon Hopkins and Bonobo work best – upbeat, sweepy, and not too many lyrics.
Further listening
If you have visited our newsroom for a ThinkIn, you'll know it's pretty open-plan, and people sometimes resort to noise cancelling headphones to help them get their work done. I tried to find out what was going on inside their cans and the results were very revealing. Here's a few Tortoise approved tunes to get you concentrating:
"Peer Gynt for anything technical… House for anything marketing strategy."
"Opera arias for a really rubbish day."
"Drum and bass, no words."
"If I am trying to get something done and I am really concentrating, then I listen to very loud dubstep music with deep grinding bits. Lyrics optional. But that's designing. If I am dealing with words or code then it's electronic blippy music with no lyrics – words distract me and I start writing the lyrics in my words."
"Generally, show tunes… just coming out of The Greatest Showman phase."
"Durutti Column… their music is mainly instrumental, which stops it from being too distracting, but with enough variation – and vocal interludes – to distract you into a kind of autopilot."
"Because I can't actually understand anything they're singing about – I always listen to this French pop channel. It's the right amount of upbeat yet not too distracting."
"Ambient music – background music in the good sense of the term. A good example is Huerco S's recent album as Pendant, Make Me Know You Sweet
"Relatedly, EasyJet released an 'album' of 10 hours of jet engine noise, which is pretty good as a white noise study tool."